Lyon International Airport, Saint Exupery Airport, is the most convenient airport to reach Grenoble. For more information, visit the Lyon Saint Exupery website (or phone +33 (0)4 72225000).
Lyon Saint Exupery Airport is a one-hour drive from Grenoble and regular shuttle buses ('Navette Aéroport') operate to and from Grenoble bus station ('Gare Routière'), which is next to Grenoble railway station.
The shuttle bus is operated by "Faure Vercors". Buses run hourly, seven days a week (timetable). People under 25 pay a reduced rate.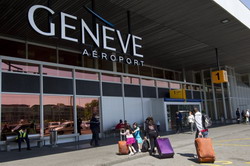 Geneva International Airport is a two-hour drive from Grenoble. Bus and train connections to Grenoble exist but are not very frequent. Visit Geneva International Airport website for more details (or phone +41 22 7177111).
A shuttle bus service runs between Geneva International Airport and Grenoble bus station: http://www.aerocar.fr/. Buses run 5 times a day (timetable and prices). Reservation is recommended (online or by phone: +33 (0)974 500 750).
There is also a regional airport at St Geoirs (Grenoble Isère Airport, 30-40 minutes from Grenoble) that offers low-cost flights  (EasyJet, RyanAir, Transavia, Wizz, norwegian, jet2.com, British Airways, Sundor…). There is a bus from Grenoble St. Geoirs Airport to Grenoble bus station that is timed with flight arrivals. The return bus from Grenoble leaves approximately 2h30 before the departure of each flight. This information is subject to change, please check the Grenoble Isère Airport website for precise times.