Youth Championship venue:
The EYGC 2017 will take place in one of the Grenoble university IUT1 buildings downtown.
Address: 39-41 Bvd Gambetta – Grenoble
The building is located right in the centre, near a lot of shops and restaurants.

Accommodation and meals:
The players and the accompanying staff will stay in the " Lycée Roger Deschaux" in Sassenage, just near Grenoble (20 minutes by tram A).
This high school provides more than  60 comfortable rooms with 4 beds in each room. All rooms are equipped with a functional workplace, toilets and private bathroom. (No towels)
The price for one night ( only sleepling) is 20 € per night, 60 € for 3 nights, 80€ for 4 nights, for one person.
End of registration for EYGC accomodation : Wednesday 8th of February

Prizes :
| Night | | Cost | Total |
| --- | --- | --- | --- |
| Friday night | Night only | 20 € | |
| Saturday night | Night only | 20 € | |
| Sunday night | Night only | 20 € | |
| | | total for 3 nights | 60 € |
| Monday night | Night only | 20 € | |
| | | total for 4 nights | 80 € |
For lunch, many kinds of restaurants, bars and snacks are available near the championship venue.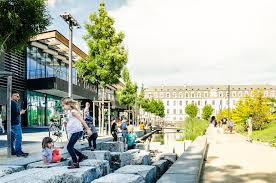 Some of these will offer discounts to the participants of the EYGC 2017.
Travelling from the accommodation venue to the championship venue:
25 minutes by tram and 7+10 minutes by walk.
Hotels:
We also have other hotel partners. However it is more suitable for the participants of the International Grenoble Go Tournament, which will take place at the same time.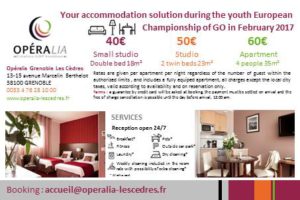 How to reach Grenoble by plane :

Lyon International Airport, Saint Exupery Airport, is the most convenient airport to reach Grenoble. For more information, visit the Lyon Saint Exupery website (or phone +33 (0)4 72225000). Lyon Saint Exupery Airport is a one-hour drive from Grenoble and regular shuttle buses ('Navette Aéroport') operate to and from Grenoble bus station ('Gare Routière'), which is next to Grenoble railway station. The shuttle bus is operated by "Faure Vercors". Buses run hourly, seven days a week (timetable). People under 25 pay a reduced rate.
Geneva International Airport is a two-hour drive from Grenoble. Bus and train connections to Grenoble exist but are not very frequent. Visit Geneva International Airport website for more details (or phone +41 22 7177111).
A shuttle bus service runs between Geneva International Airport and Grenoble bus station: http://www.aerocar.fr/. Buses run 5 times a day (timetable and prices). Reservation is recommended (online or by phone: +33 (0)974 500 750).
There is also a regional airport at St Geoirs (Grenoble Isère Airport, 30-40 minutes from Grenoble) that offers low-cost flights  (EasyJet, RyanAir, Transavia, Wizz, norwegian, jet2.com, British Airways, Sundor…). There is a bus from Grenoble St. Geoirs Airport to Grenoble bus station that is timed with flight arrivals. The return bus from Grenoble leaves approximately 2h30 before the departure of each flight. This information is subject to change, please check the Grenoble Isère Airport website for precise times.